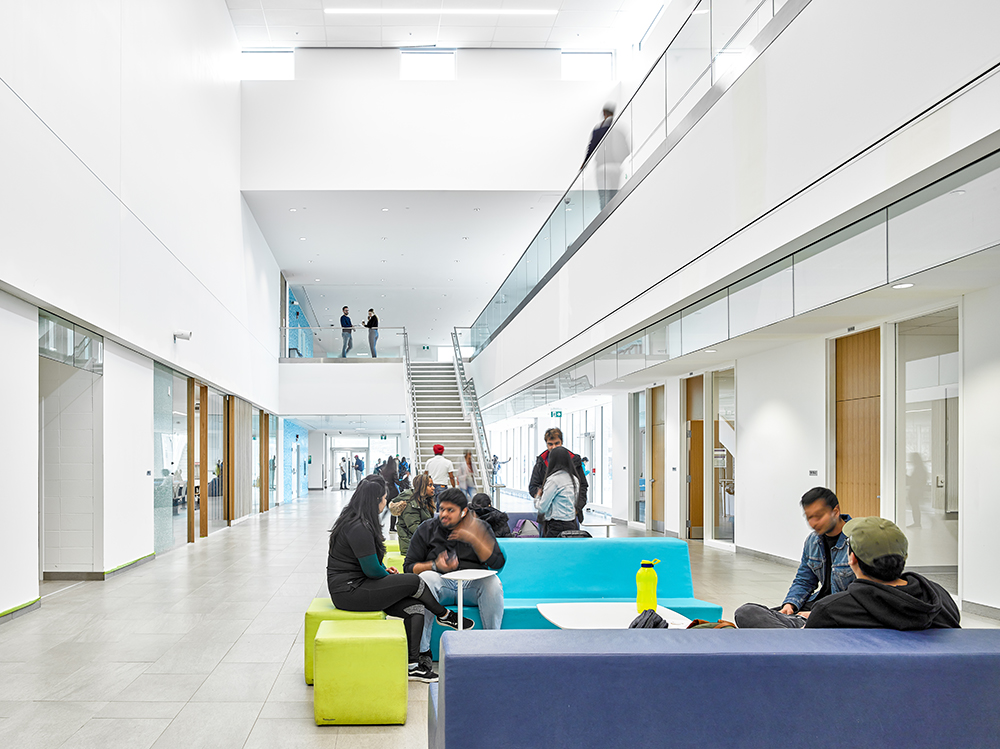 We are happy to announce we are the recipient of a Diamond Award for Building Engineering in recognition of our work at Conestoga College's Waterloo Campus.
In association with Moriyama & Teshima Architects, we provided mechanical, electrical, structural, and civil engineering services for the College's $43.5 million, 165,000 square foot expansion of their Waterloo Campus. This project included both a renovation to the existing structure and a new building, nearly doubling the existing area of the College. Part of this project's funding was supported by the federal government's Post-Secondary Institutions Strategic Investment Fund (SIF) and was delivered through a fast-tracked process completed over three phases. In order to meet funding requirements, we strategically designed phases in parallel to expedite the design, tendering, and construction processes.
The project included several exciting additions that supplemented Conestoga's existing complement of training and student services programs. The Institute for Culinary and Hospitality Management was designed to educate students interested in hospitality and simultaneously positions Waterloo Region as a culinary tourism destination. The newly added access hub provides career advising, language training, testing, and academic advising for students, newcomers to Canada, job seekers, and area employers. The project also included the addition of the Centre for Advanced Learning, which focuses on information and communications technology, digital technologies, and business.
In line with the College's mandate for sustainability, we were directed consider their targets for greenhouse gas emission reduction and sustainability in our design. Given the constraint of a limited capacity increase the existing electrical power on site, we designed a new cooling plant, which was the largest electrical load in the facility, to use a smaller chiller supplemented with ice storage. By pre-cooling with ice during the evenings, we were able to design a system that did not require additional power supply for the new building.
We were also involved in the design of a 150 kW solar installation on the new building. It was important to the College that the solar array was visible to the students and the public to showcase their commitment to sustainability. For this reason, the array was installed above the main entrance to the facility facing a major street – University Avenue. While this limited the physical size and angle of the array,  our firm, in conjunction with local solar panel installers, prepared the preliminary layout of the solar array detailing position, angle, and quantity of the solar panels to maximize electrical output.
The complexities the project presented were an invigorating challenge for our team, and we are thrilled with the end result. We look forward to continuing to collaborate with the academic community to deliver projects that support student success and benefit the greater community.
Congratulations to all of the project partners involved in making this development a success.