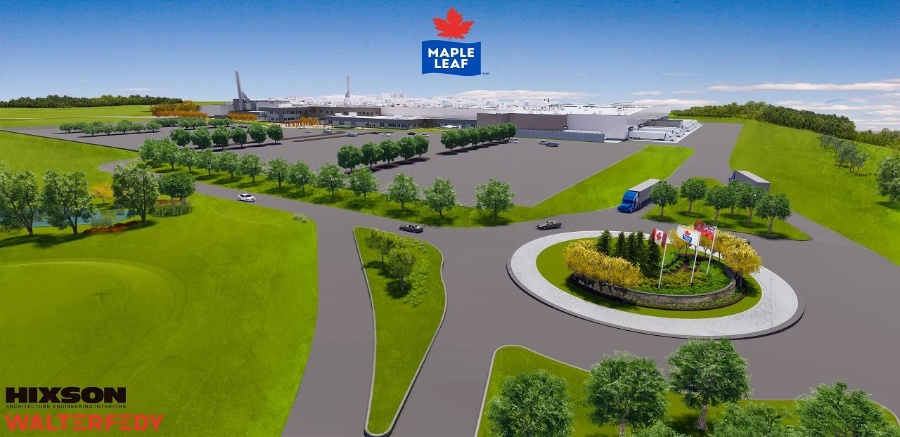 (CINCINNATI, OH and KITCHENER, ONTARIO; November 28, 2018) – Cincinnati-based Hixson Architecture & Engineering and Ontario-based WalterFedy announced today that they are working together to create a new $660 million value-added fresh poultry facility in London, Ontario for Maple Leaf Foods. Hixson is serving as the lead firm to design and engineer the 640,000 square foot facility, with WalterFedy collaborating to provide architecture and engineering services in Canada. The plant is expected to be one of the most technologically advanced poultry-processing plants in the world, incorporating leading-edge food safety, environmental, and animal welfare processes and technologies. Construction at the London site is expected to begin in the spring of 2019, with start-up planned for the second quarter of 2021.
According to Michael H. McCain, President and CEO of Maple Leaf Foods, the new, world-class facility "will enable Maple Leaf to meet the steadily growing consumer demand for premium, value-added poultry products, and strengthen Canada's food system." In addition, said McCain, this will be "the largest single-site investment ever made in the Canadian food sector."
Greg Hammond, President and CEO of Hixson, also offered his thoughts on the project. "For 70 years, Hixson has been working with companies throughout North America to design and engineer facilities that can stand the test of time while meeting our clients' needs for food safety, employee safety, and productivity," said Hammond. "We are proud to have been selected by Maple Leaf Foods to design this historic project."
"We are excited to be partnering with an organization like Hixson," said Paul Reitzel, CEO of WalterFedy. "They have a long history of doing excellent work in the food industry. Our firms have the same commitment to values and talented professionals that deliver meaningful and functional projects to our clients."
Read more about this project, including its economic impacts.
ABOUT HIXSON
Hixson is an architecture, engineering and interior design firm specializing in projects for corporate office environments, retail projects and industrial processing facilities. Listed as one of the top firms in North America, Hixson delivers insight and advocacy leading to intelligent project execution through 16 integrated technical disciplines. To learn more, please visit www.hixson-inc.com.
ABOUT WALTERFEDY
WalterFedy is a dynamic, integrated design firm of architects, engineers and construction management professionals. With over 65 years of experience, WalterFedy excels at delivering creative solutions and practical built environments that enrich communities.