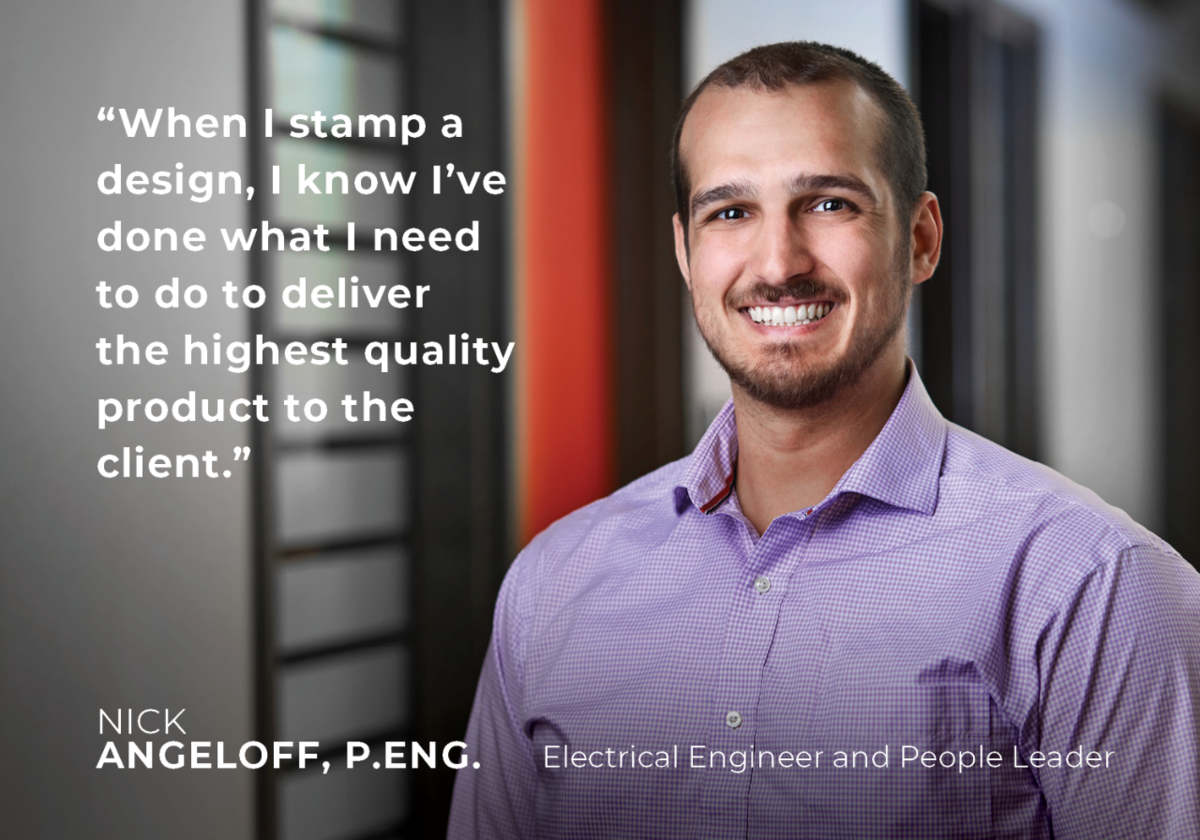 When you look back, are there moments you can pinpoint that define who and where you are today? For some people that answer might be a bit foggy, but for WalterFedy Electrical Engineer Nick Angeloff, there are two that are crystal clear. The first one led him to electrical engineering and the second one led him to his wife.
First, let's rewind to Grade 10 physics. 15-year-old Nick is learning about simple circuits for the first time, connecting battery packs and wires with banana clips to try to turn on a light bulb. Something sparked inside of him. He needed to learn more. "I wanted to know everything about how lights worked, which led me down a rabbit hole on a quest for more and more information," says Nick. He emerged with a career in mind: he was going to be an electrical engineer.
Fast forward to Nick's first week as a University of Waterloo (UW) engineering student, when he is approached by cheerleaders asking for help to move tents. He and his friends obliged but soon realized they weren't there to lift tents – they were there to lift people. After trying a few basket tosses and lifts, the cheerleaders convinced him to try out for the team, and for the next three years, he cheered for UW. In fourth year, some UW cheerleading alumni were putting together an adult team at the Sharks in Cambridge and Nick decided to join. As fate would have it, a peppy Western University cheerleading alumna named Taryn joined the Sharks the same year. The two hit it off immediately and have been together ever since.
Nick and Taryn moved to Toronto for a few years, but when they wanted to put down roots, they looked back to the tri-cities and Nick set his eyes on WalterFedy. "I had a co-op placement at WalterFedy in 2011 and knew the work the company was doing was what I wanted, so I actively sought out a position at the firm," explains Nick. Since rejoining the team in 2016, Nick has carved his own niche and progressed from an Engineer-in-Training to a People Leader in just four years. His drive and expertise have placed him on some high-profile projects, including the Conestoga College North Campus expansion.
The Conestoga College expansion project had everything Nick enjoys most about electrical engineering but on a much bigger scale than he had ever worked on before. He knew this wasn't the type of project that comes around too often and he didn't waste the opportunity. "For me, the Conestoga College project was career-defining," shares Nick. "I went from assisting with design to taking the reigns early on, and I stayed with the project through to construction. This project taught me how to lead, delegate and execute a multi-disciplinary project from beginning to end."
When Nick describes his work, you can tell he's passionate about what he does. "When I start any project, I want to design the most robust, reliable, and safe electrical system I can," he says. "I want to ensure the system will operate and continue to operate in every situation." To him, the best electrical systems are the ones where he doesn't have any questions about what he's put on the paper. "Good design comes from knowing how to start and where you want to end up," he explains. "When I stamp a design, I want to have zero questions about what I've put on the paper and know I've done what I need to do to deliver the highest quality product to the client."
While Nick is retired from the sport of cheer, the principles remain in a different way. "Cheer gave me a sense of structure and comradery that I apply to my work as an electrical engineer," Nick says. "As electrical engineers, we are part of a larger team that includes architects, other engineering disciplines, and construction professionals, and we have to work together for the client's project to be successful. Now, instead of working with my team on the mat, I'm in a meeting room." But that doesn't mean he's left behind the skillset. "When someone accidentally throws a frisbee on the roof at the cottage, they always know I'll throw Taryn up on my shoulders so she can grab it," he jokes.