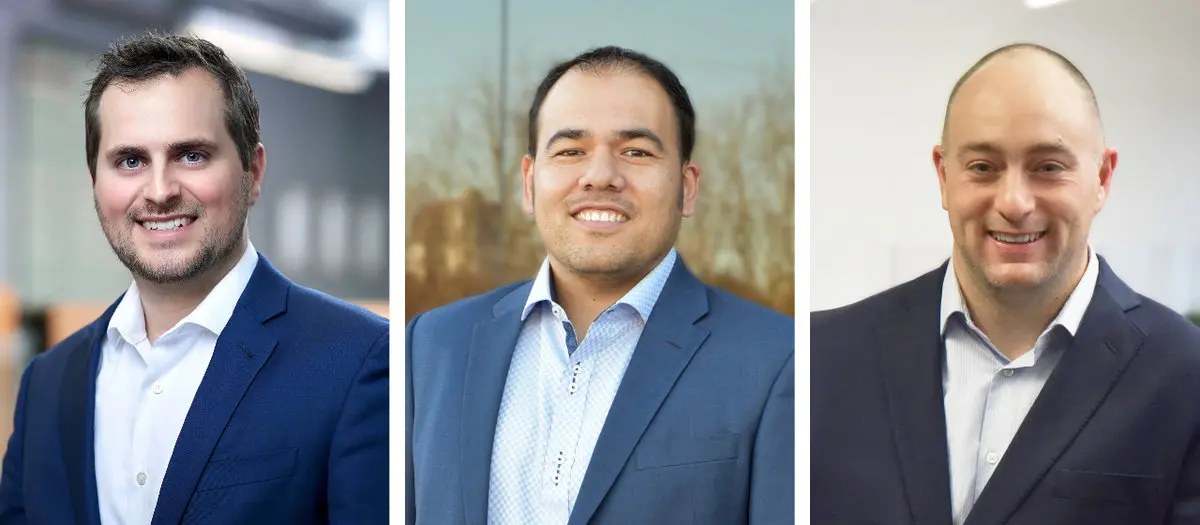 KITCHENER, Thursday, November 12, 2020 – The WalterFedy Board of Directors is pleased to announce three new shareholders are joining our ownership team. Congratulations to Patrick Darby, Matt Ninomiya and Russ Parnell who have all proven themselves as leaders within the firm and will be strong representatives of WalterFedy moving forward.
"We are proud to be adding these three talented professionals to our shareholders' table," says Jamie Van Dyk, Chair of the WalterFedy Board of Directors. "Each one brings different skills and experiences to the group and their voices will be valuable additions to our ownership team."
All three represent different departments and showcase the breadth of talent within our organization.
Patrick Darby, P.Eng., CEM, CMVP, LEED AP, has been a champion for sustainability in engineering at WalterFedy since joining the team in 2008. Patrick meshes his mechanical engineering background with environmental advocacy to develop future-conscious solutions for his clients. As manager of our Energy and Carbon Solutions department, he challenges his team to explore new approaches to carbon reduction and energy conservation, and actively encourages clients to make savvy, green choices for their buildings. He is also the chair of Smart Energy Oxford that has the mandate to support the county-wide goal of 100% renewable energy by 2050.
Matt Ninomiya, MBA, P.Eng., leads the Land Development practice with our Civil Engineering group. Matt joined the WalterFedy team in late 2018 and has made big strides for our business since coming on board. He brings a strong energy and client focus to every project he works on. Whether it be finer details on a small site or a big picture vision of a subdivision, Matt is passionate about designing and building the communities we all call home. He is also actively involved in the home building industry and serves as a Director on both the Waterloo Region Home Builders Association Board and the Brantford Home Builders Association Board.
For Russ Parnell, P.Eng., M.ASc., structural engineering isn't just his job – it's his passion. This seasoned engineer joined WalterFedy in 2014 and believes building collaborative relationships is just as important as creating structures that will stand the test of time. As a creative problem solver, Russ is known for his ability to deliver large, complex, and multi-phased projects on accelerated timelines. Empowering those around him to grow and excel in their positions is something Russ takes great pride in. Outside of work, he is a dedicated member of the Habitat for Humanity Waterloo Region Board of Directors.
Congratulations Patrick, Matt and Russ. The WalterFedy community is happy to have you joining our leadership team to guide us toward a successful future for our organization.
ABOUT WALTERFEDY
WalterFedy is a dynamic, integrated firm delivering creative design solutions and practical built environments. Our expertise includes architecture; mechanical, electrical, structural, and civil engineering; energy and carbon solutions; asset and facilities management; project management; and construction management through our sister company, AEC Developments.
Our staff of nearly 200 people serve from two locations in Kitchener and Hamilton. Together, we support clients across Canada with their commercial, healthcare, education, municipal, industrial, and residential projects.
—
Website – walterfedy.com
LinkedIn – linkedin.com/company/walterfedy/
Facebook – facebook.com/walterfedy
Instagram – Instagram.com/walterfedy