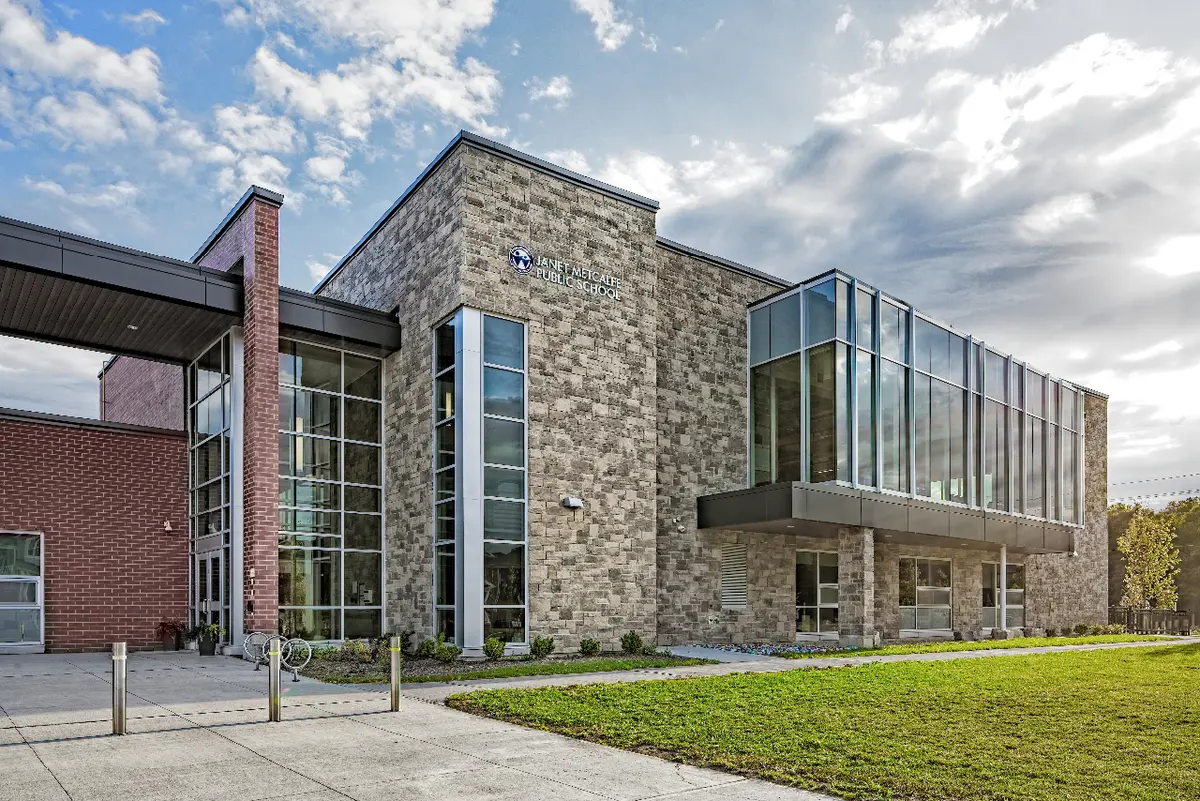 In a burgeoning neighbourhood in Kitchener's south-end sits Janet Metcalfe Public School, the area's newest public education facility designed to meet the needs of the increasingly diverse community it serves. With programming for children from junior kindergarten to Grade 8, the two-storey facility includes 20 classrooms, two special education rooms, five kindergarten rooms, an administration centre, library, technology classroom with workshop, double gymnasium, and washrooms. Home to a specialty program for medically fragile students, the design includes program space that accommodates the needs of eight children with medical needs, their caregivers, and teachers, ensuring equal access to education for all. The site also hosts a 6,800 SF daycare facility.
The building is located across from a preserved remnant of Carolinian forest. This landscape has inspired the materials used in the building. Clay brick, stone, and glass are the main material, with the underside of soffits appearing as wood. Soaring windows throughout the building flood communal areas and classrooms with natural light, and delight staff and students with views of the neighbouring conservation area. Warm wood finishes and natural colours inside, with bright colours utilized sparingly for wayfinding, allow students to move through the calm space with purpose. The playful green in the Library emulates the peaceful pastoral views of Waterloo Region, while exposed ceilings, modern fixtures, and gleaming glass align with the modern feel of the booming tech industry in the area.
When construction was about to commence, the requirements for the medically fragile area became known. The program was scheduled to move into another new school but the space was too small to meet program needs. The consultation process to develop the design of this space involved analysis of the existing inadequate classroom facility. Meetings and discussions with teachers and leadership lead to the conversion of two proposed classrooms into a specialized facility for medically fragile students.
The medically fragile program area includes a large, fully accessible washroom with a change table, and a large separate changing area with storage for supplies and clothing. An additional medical nursing area has space for charting, as well as refrigerated storage for medication and a sink for medical preparation. The design also includes a laundry and kitchen area within the classroom to care for the needs of students. The classroom itself has ample space to accommodate mobility needs and support equipment. A padded calming area allows students to retreat to a comfortable space and still be part of the lesson. This area includes a variety of sensory simulation equipment. To enhance functionality, a separate room was incorporated to store mobility equipment when not in use. This space plays in important role in legitimizing the educational needs of a historically underserved student demographic.