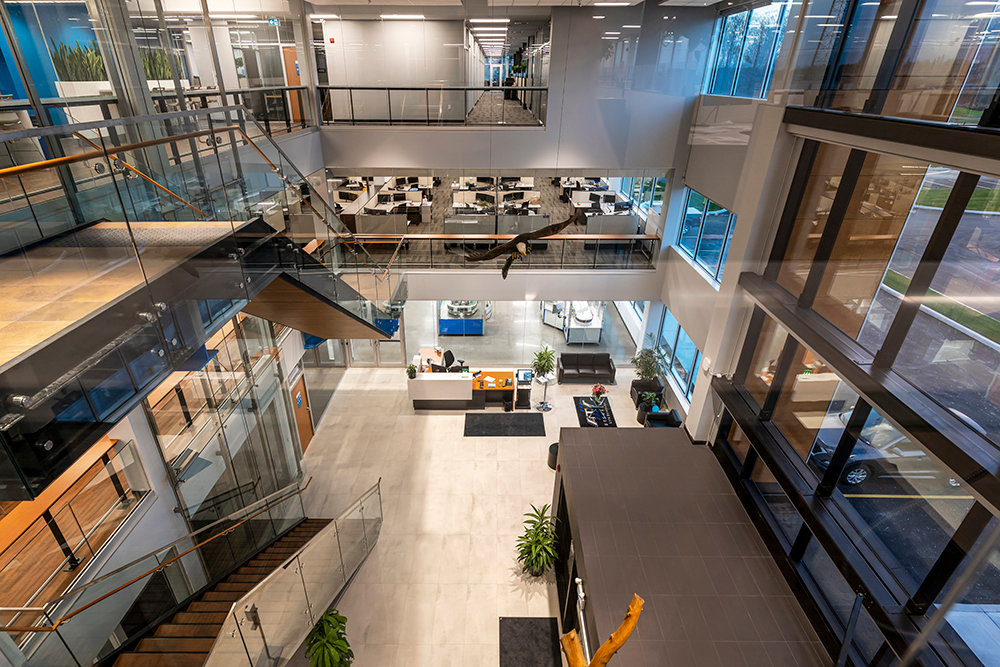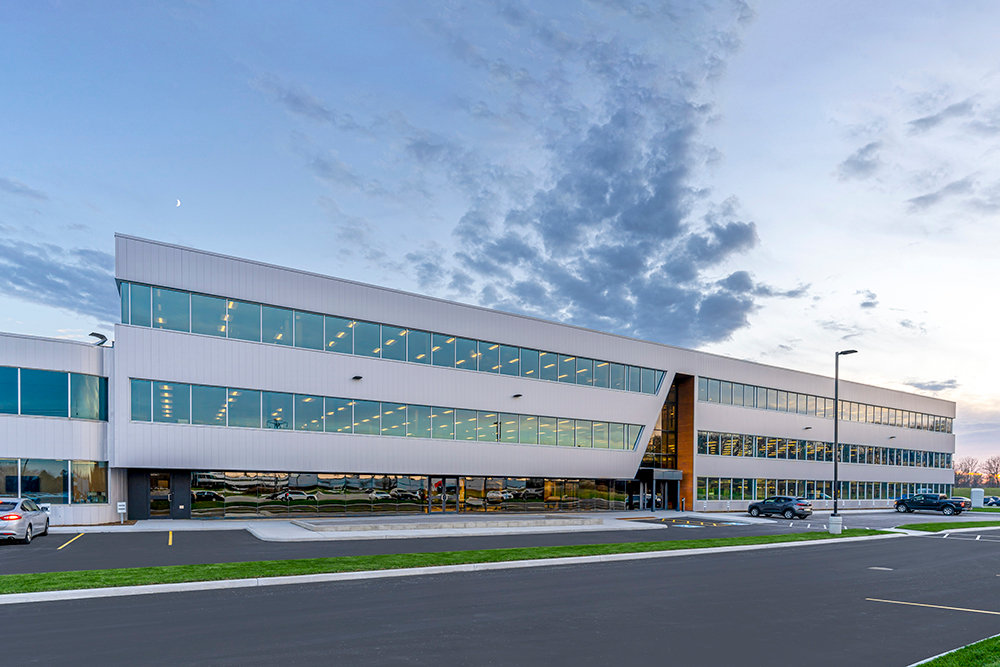 ATS is an industry-leading automation solutions provider for many of the world's most successful companies. Since the Waterloo Region is known as the "Silicon Valley of Canada", ATS is following suit and continuing to promote innovation within our community.
We had the privilege of providing architectural services, structural, mechanical, electrical, and civil engineering, with support from GSP Group who provided landscaping and site plan application for ATS's new Cambridge plant and corporate office space. ATS required additional manufacturing space for their life sciences department, a research and development (R & D) innovation lab, a new corporate office space, collaborative spaces (such as kitchenettes), and a cafeteria for up to 400 people. The total area of the project was 120,000 SF.
"ATS has a strong focus and knowledge within automation project management and quality control," says Will Pentesco, Project Manager. "They showed great interest in the finer details of this project. This gave our team many opportunities to have in-depth design meetings and collaborate using renderings from our 3D modeling programs."
ATS needed an innovation lab that had a functional layout. Underneath this minimalistic design, though, there were highly intricate designs requiring a lot of mechanical, electrical, and structural coordination. Our team's goal was to keep this complicated technical layout as simple looking as possible.
This functional style was carried over into the corporate office space as well. ATS wanted to ensure they had a modern and tech-savvy space for their offices, which included a variety of touchdown and collaborative spaces throughout. During the design development, ATS decided that two floors wouldn't fulfill the office staff needs, and decided to add a third floor. Our design team showcased the 3D design models via renderings and by utilizing Virtual Reality (VR), which allowed us to showcase and provide an immersive look into the complex details of the whole project. VR also allowed us to reveal the building designs to staff focus groups so they could experience what their new workspaces would feel like.
"ATS enjoyed the close relationship with our design team while using VR," says Will. "It allowed them to fine-tune finish selections for the staff amenity spaces, such as the touchdown kitchenettes on each floor, and the main cafeteria.  We did a series of iterative floor plans, so we could find the right balance for the total number of seats that could fit into the floor plan. It also provided architectural opportunities to showcase their innovative product designs."
A key architectural feature was a grand swooping "A" framing the main entrance. This accent on the façade is reminiscent of the typography used in their corporate logo. It scales the three-stories, peaking at the rooftop. Inside the main lobby, the "A" creates a grand three-story atrium showcasing a prominent staircase, views into the research and development (R&D) innovation lab, as well as a view right into the main cafeteria.
This innovative building, completed in the Fall of 2020, can be seen right off the 401 while driving through Cambridge.